Ideal InfraStructure In A School: ITM Global School, Gwalior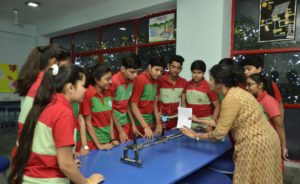 ITM Global School, Gwalior started its academic journey in the year 2014, but the roots of the ITM Group in the field of education goes deep down, and it covers the entire span from the pre-school to the doctoral level.
It is a leading school in the Gwalior-Chambal region, known for its location, lush green campus, plastic-free zone, calm and serene ambience, spacious outlay, excellent amenities, and visually appealing landscape.
The school has three beautiful buildings: the Le Montessory Block, the Jyotibha Phule Block and the Kabeer Block, each of them designed age-specifically and having manifestly distinct architectural style. The school retains its beauty due to the magnificent sculptures placed around the campus and the paintings hanging on the walls.
The location of the school has an enormous significance. It is situated at Jhansi Road, in Turari village away from the crowded city and in the midst of acres of cultivated land, sharing the common campus of ITM University. Apart from the concrete buildings, the campus has trees, plants and flowers that create a beautiful natural environment to study. The trees with their Botanical names help students to learn about the family and medicinal usage.
Buildings, classrooms, laboratories, and equipment- education infrastructure – are crucial elements of learning environments in schools and universities. There is strong evidence that high-quality infrastructure facilitates better instruction, improves student outcomes, and reduces dropout rates, among other benefits. One can't deny how significant a school is in shaping up a student's personality and holistic learning process. Infrastructure plays a vital role in creating a favourable environment for students' holistic development.
Other than spacious and ventilated classrooms, the school has well equipped and suitably-designed laboratories for various subjects be it physics, chemistry, biology or home science for nurturing the scientific temperament in students. During pandemic, the school provided the facility of virtual lab and digital library for providing the students world class facility. The school has two separate libraries for primary students and high school students housing a wealth of useful books or informative and interesting video facilities, coupled with a motivating or mood-lifting ambiance not only attracts students but also develops a liking to study. It encourages exploring interesting things among students, especially in their formative years when the curiosity to know is intense among curious minds of children. Such places also serve as holding interactive sessions and exchanging knowledge among students, thereby enhancing students' writing and reading skills. The school shares a common auditorium LDV (Leonardo da vinci block) equipped with the latest multimedia technology serve as an ideal platform to showcase not only students' various performances but also be a good utility for conducting various educational programmes. An open Ampitheatre is also there in Kabeer Block, where morning assembly and other cultural programmes are conducted.
It is worth mentioning that school has produced many laureates at national and international level. Every child today views some or the other sports personality as his/ her ideal. Be it martial arts, floor ball, cricket or skating, students wish to learn something at school itself. Thus, availability of sports facilities, basketball courts, tennis courts, cricket pitch and skating rink of international standards and a separate building for indoor games are the sports facilities provided at ITM Global School, Gwalior.
Unlike traditional chalk and board methods, digital classrooms as medium of providing education are proving quite effective and visually attractive. While attracting audio-visual senses of students, digital classrooms have a better appeal among students.
Use of digital technology in education is steadily transforming whole concept of education delivery, making the very concept of 'Show me and I understand' a Reality.
With the use of interactive whiteboards, projectors, audio-visual room, Teach–Next and Wordsworth Lab for teaching pronunciation are some of the advanced methods based on computer technology are used in the school to make the teaching and learning are more interesting.
Digital libraries and e-books have facilitated access to a wealth of knowledge available online that can now be accessed with the help of a mobile phone, tablet or laptop, anywhere, anytime, with an Internet connection.
LMS (Learning Module System) is such an online platform which is available 24 hours a day, keeps parents up-to-date with their children's activities and progress, and also in touch with the teachers concerned. Introduction of such software facilitates the teacher-student communication, because it makes it easy for the teachers to see on their computers what the students are doing on their devices, or share their screen with them and vice versa. To update the parents of what is being taught in the school an E-diary (almanac) is also shared with the students which will remind them of their assignments.
Certainly it's an established fact that that a school with good infrastructure goes a long way in improving the interest of both – students and teachers alike in learning. It plays a role in improving the attendance of students too. For this same reason, it can be said that investments in school infrastructure play an enabling role in solving many access-related problems of students to the school system, thereby giving boost to their academic performance too.
All these facilities make ITM Global School unique in many ways. It has world class infrastructure which helps it to run an International curriculum.